Welcome to our dedicated section for filmmakers! We believe in supporting and nurturing emerging talent in the world of independent filmmaking. Whether you're a seasoned professional or just starting your journey, REEL East Texas Film Festival provides valuable resources, opportunities, and a vibrant community to enhance your craft and showcase your work.
Festival Submissions
We invite filmmakers from all backgrounds to submit their films for consideration in our festival. Our programming team carefully reviews each submission, looking for unique and compelling storytelling, artistic vision, and innovative filmmaking techniques. We accept submissions in various categories, including narrative features, documentaries, shorts, and student films. Visit our Submissions page for guidelines, deadlines, and to submit your film for consideration.

Film Friendly Community
East Texas is known for its warm hospitality and film-friendly communities. Local residents and businesses are often excited to collaborate with filmmakers, providing support, resources, and a welcoming atmosphere for your production. Experience the genuine Southern hospitality that can make your filmmaking journey in East Texas truly memorable.
Filmmaker Resources
As filmmakers, we understand the importance of having access to resources that can elevate your projects. In our Filmmaker Resources section, you'll find a curated list of industry tools, organizations, and funding opportunities to help you navigate the filmmaking landscape. From screenwriting software and production equipment to grants and fellowships, we aim to connect you with valuable resources to support your creative journey.
There are several grants and funding opportunities available for filmmakers to support their film projects in Texas. Here are a few options to consider:
The Texas Film Commission offers grant programs specifically designed to support filmmaking and media production in the state. These grants provide financial assistance for various aspects of film production, such as production costs, post-production, and promotion.
Texas Moving Image Industry Incentive Program provides financial incentives in the form of grants and rebates to qualifying film and television projects that choose to shoot in Texas. It aims to promote the growth of the film industry in the state and attract more productions to Texas.
Administered by the Austin Film Society, the Texas Filmmakers Production Fund provides grants to Texas-based filmmakers for the production of narrative, documentary, experimental, and animated films. The fund aims to support independent filmmakers and foster the growth of the Texas film community.
The Kilgore Economic Development Corporation (KEDC) offers grants and incentives to support economic development in Kilgore, Texas. Filmmakers looking to film in Kilgore or contribute to the local economy through their projects may find potential funding or support from the KEDC.
It's important to note that grant programs and funding opportunities may have specific eligibility criteria, application processes, and deadlines. It's recommended to visit the respective websites of these organizations to learn more about their specific grant programs and funding requirements.
Filmmaker Spotlight
We believe in recognizing exceptional talent and celebrating the achievements of filmmakers in our community. Our Filmmaker Spotlight section showcases the work of outstanding filmmakers who have participated in our festival. Get inspired by their stories, explore their filmography, and learn from their experiences. If you're a filmmaker who has been a part of our festival, we encourage you to reach out to us to be featured in our Filmmaker Spotlight.
Filmmaker FAQs
We understand that filmmakers may have questions about our festival, submission process, or other aspects of participating in REEL East Texas. Our Filmmaker FAQs section provides answers to common queries, offering clarity and guidance. If you have any specific questions that aren't addressed in this section, feel free to reach out to us directly, and we'll be happy to assist you..
We are growing our festival, hosted by filmmakers for filmmakers. We love great films and bringing together audiences, filmmakers and film industry representatives in celebration of artistic and independent spirit.
We are incentivizing filmmakers to produce projects in Kilgore and East Texas, making use of the Film Friendly City designation by the Texas Film Commission, and recruiting from a workforce that's a quarter-million strong.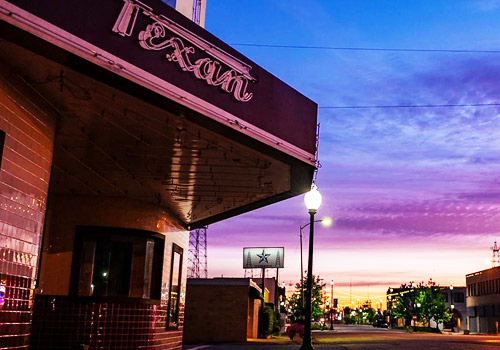 We are generating an energetic and vibrant downtown by procuring and investing in Kilgore properties, creating viable spaces for small businesses to rent/lease and for both residents and
visitors to enjoy.