Volunteer Opportunities
Join us in making a difference. We offer various volunteer opportunities that allow you to contribute your time and skills to our programs and events.
REEL Society
Join the REEL Society membership program and embark on an extraordinary cinematic journey like no other! Immerse yourself in a vibrant community of film enthusiasts, where the magic of movies comes alive. From indie darlings to hidden gems from around the globe, our diverse selection will transport you to new worlds and inspire you with its artistic brilliance.
Your REEL Society membership opens doors to exclusive discounts, priority seating, and early access to the film festival including an exclusive preview. But it doesn't end with film screenings! Engage in lively conversations and debates with fellow film enthusiasts, directors, and industry professionals at our festival's renowned REEL Cast & Crew Lounge located in the historic Old Post Office in Downtown Kilgore. Delve deeper into the art of filmmaking, gain insider knowledge, and broaden your understanding of the medium that has the power to touch hearts and shape perspectives.
Join the REEL Society today and be part of a vibrant community that celebrates the art of storytelling through film. 
Here's how our REEL Society members support filmmaking in East Texas:
Sponsorship
Sponsorship Opportunities: Supporting the REEL East Texas Film Festival
We invite you to join us in making a lasting impact on the vibrant film and cultural community of East Texas by becoming a sponsor of the REEL East Texas Film Festival. As a sponsor, you will have the unique opportunity to contribute to the success of our diverse range of programs, including the film festival, summer intensive, student film showcase, and the historic preservation of the iconic Texan Theater. Your generous support will help us continue to provide enriching experiences, educational opportunities, and preserve the region's cultural heritage.
By partnering with us, you'll not only be supporting the arts but also gaining valuable exposure and networking opportunities. Our sponsorship packages are tailored to meet the needs of businesses, organizations, and individuals looking to align themselves with the film industry and make a positive impact on the community.
Perks of Sponsorship:
Enhanced Brand Visibility: As a sponsor, your brand will be prominently featured in our marketing materials, including the festival website, social media campaigns, press releases, and event signage. This exposure will allow you to reach a diverse audience of film enthusiasts, industry professionals, and community members.
Exclusive Access: Sponsors will receive VIP passes to the film festival, granting you access to exclusive screenings, parties, and networking events. You'll have the opportunity to mingle with filmmakers, industry insiders, and fellow sponsors, fostering valuable connections.
Customized Marketing Opportunities: We offer tailored marketing opportunities, such as logo placement on festival merchandise, inclusion in our festival program guide, and recognition in our promotional materials. These avenues will help you increase your brand awareness and connect with your target audience.
Community Engagement: By supporting our programs, you'll demonstrate your commitment to the local community. Sponsors will be recognized as champions of the arts, education, and historic preservation, contributing to the economic and cultural growth of East Texas.
Tax Benefits: Your sponsorship may be tax-deductible. We encourage you to consult with your financial advisor to determine the extent of tax benefits associated with your contribution.
Your generous sponsorship will directly support our initiatives, enabling us to provide scholarships, expand educational opportunities, curate exceptional film screenings, and restore the historic Texan Theater to its former glory. Join us in creating memorable experiences, fostering talent, and preserving the rich cultural heritage of East Texas.
To learn more about our sponsorship packages and explore the various opportunities available, please contact us at [email address] or [phone number]. We look forward to partnering with you and creating a mutually beneficial relationship that celebrates the power of film and the arts.
Thank you for considering supporting the REEL East Texas Film Festival. Together, we can make a difference and inspire the next generation of filmmakers and cultural enthusiasts.
Grant Opportunities
As a nonprofit organization, we are eligible for grant funding. Explore potential partnerships and grant opportunities to support our mission.
We are growing our festival, hosted by filmmakers for filmmakers. We love great films and bringing together audiences, filmmakers and film industry representatives in celebration of artistic and independent spirit.
We are incentivizing filmmakers to produce projects in Kilgore and East Texas, making use of the Film Friendly City designation by the Texas Film Commission, and recruiting from a workforce that's a quarter-million strong.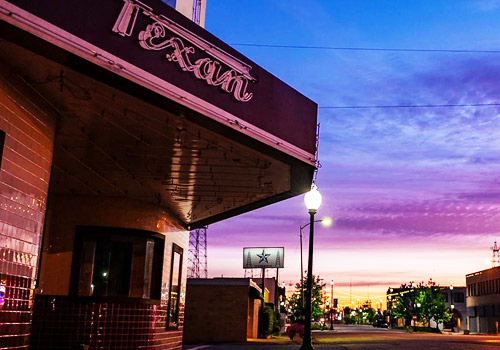 We are generating an energetic and vibrant downtown by procuring and investing in Kilgore properties, creating viable spaces for small businesses to rent/lease and for both residents and
visitors to enjoy.