This family-friendly event will take place October 14th in Historic Downtown Kilgore! Come experience authentic German food, music, drinks and family-friendly activities. Come dressed for the occasion in a Drindl or Lederhosen and enter the Best Dressed competition.

2023 Kilgore Oktoberfest
VIP Experience
Join us as a Kilgore Oktoberfest VIP, and get rapid beer service in addition to reserving a commemorative glass stein!
Working with our incredible partners at R&K Distributors and Biergarten Bosses Travis Hull and Kate Yglesias, our #REELeasttexas brewmeister team has cultivated an awesome menu for Kilgore Main Street's 2023 Kilgore Oktoberfest set for 1 p.m. to 8 p.m. Saturday, Oct. 14.


Saint Arnold Oktoberfest
Full bodied, malty, slightly sweet beer celebrating the Autumn harvest. This rich beer has a round malt flavor and above average alcohol content perfect for a cool fall evening.
IF YOU LIKE: Paulaner Oktoberfest Marzen, Spaten Oktoberfest, Sam Adams Oktoberfest
Firestone Walker Oaktoberfest
Oaktoberfest is our oak-inspired homage to the great German tradition of Oktoberfest. We go the extra mile of maturing this beer in French oak barrels to create an amazingly smooth mouthfeel. The result is a classic German Fest Bier with a hint of West Coast hoppiness. Grab your stein, don your lederhosen and enjoy!
IF YOU LIKE: Hofbrau Oktoberfestbier, Augustiner Oktoberfest, Victory Festbier


Karbach Crawford Bock
What's even easier than jacking a dinger into the Crawford Boxes? How about cracking open a delicious Crawford Bock? Karbach Crawford Bock is so smooth you can easily stretch that single into a double. Pairs perfectly with peanuts, stadium dogs, and a good 7th inning stretch!
IF YOU LIKE: Shiner Bock, Ziegenbock Amber, Yuengling Lager


Goose Island Wild Herd Kolsch
This beer is a German style Kolsch which is more similar to a lager, it's actually a hybrid beer so has qualities of both an ale and a lager. What this means is Kolsch beers are light, refreshing, slightly citrusy, not too hoppy or bitter vs. many other craft styles.
IF YOU LIKE: Saint Arnold Lawnmower, Bud Light, Coors Light


Michelob Ultra (canned)
Sat, October 14, 2022, 
1:00 PM – 8:00 PM CDT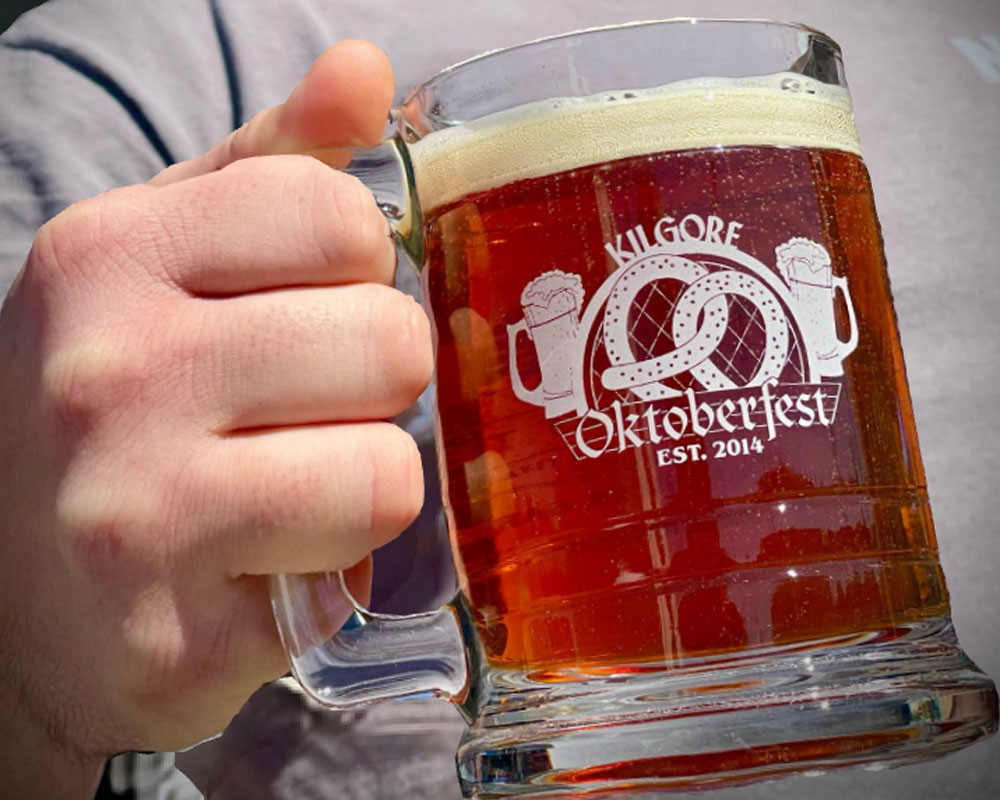 Texan Theater 
201 South Kilgore Street
Kilgore, TX 75662
Contact the organizer to request a refund. Givebutter fees are nonrefundable.
For just $75, the 2023 Kilgore Oktoberfest VIP Experience from REEL East Texas Film Festival is the best way to enjoy this annual East Texas festival inspired by the largest Volksfest in the world in Munich, Bavaria, Germany!
With your advance VIP purchase you'll receive:
One (1) commemorative Oktoberfest glass stein
5 Beer Servings
Access to our FastFill Refill Line
4 Tickets to Screenings at the sixth annual REEL East Texas Film Festival (Nov. 9-12)
A Brezel Halskette (a.k.a. our East Texas take on the "pretzel necklace"
And more!
It's an experience valued at more than $100 – and that front-of-the-line access is invaluable 😉 – if you reserve your spot in advance!