Historic Revitalization
The Texan Theater holds a cherished place in our town's heritage. Built in 1931, it bears witness to the golden age of cinema, with autographs of renowned western movie stars etched in the sidewalks outside.
Despite surviving two fires during the oil boom, The Texan was rebuilt in 1938. However, its glory days as a movie theater ended in 1971. After a brief stint as a catfish restaurant, it sat dormant for decades until revitalization efforts got underway in 2012. It was in 2017 that REEL East Texas Film Festival injected new life into the effort and revived the theater's purpose as a vibrant event center for Kilgore's community.
We aim to restore and enhance The Texan's physical infrastructure to create a modern and welcoming space for diverse community events and position Kilgore as an attractive filming location. The revitalization of The Texan will encourage filmmakers to produce their projects in our town and foster collaboration with international filmmakers through on-location projects and workshops.
As one of the oldest structures still standing in Kilgore, The Texan holds great historical and architectural significance for our region. Its revitalization will contribute to the preservation of our heritage and serve as a focal point for ongoing downtown revitalization efforts that will inspire future generations.
We are growing our festival, hosted by filmmakers for filmmakers. We love great films and bringing together audiences, filmmakers and film industry representatives in celebration of artistic and independent spirit.
We are incentivizing filmmakers to produce projects in Kilgore and East Texas, making use of the Film Friendly City designation by the Texas Film Commission, and recruiting from a workforce that's a quarter-million strong.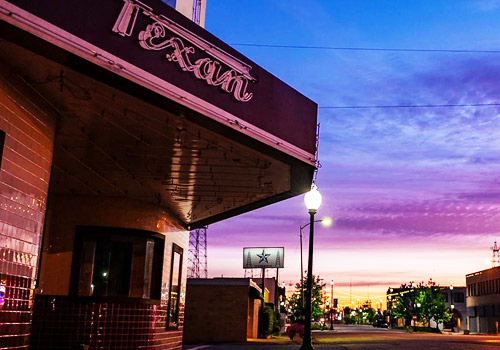 We are generating an energetic and vibrant downtown by procuring and investing in Kilgore properties, creating viable spaces for small businesses to rent/lease and for both residents and
visitors to enjoy.